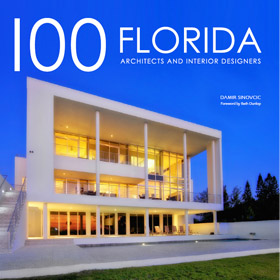 $45.00
Buy Now
Bundle and Save!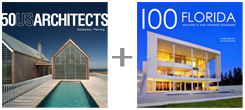 Order 50 US Architects and
100 Florida Architects and Interior Designers
and get $10.00 off plus free shipping!

Reg Price: $104.00
Your Price: $94.00
Get Both Now!
100 Florida Architects and Interior Designers
Edited by Damir Sinovcic
Foreword by Beth Dunlop
SPECIFICATIONS
Dimensions: 11.2 in. x 11.2 in. x 1.5 in.
Pages: 458, color
Format: Hardcover, jacketed
ISBN 13: 978-1-936344-00-0
ISBN 10: 1-936344-00-9

INSIDE THE BOOK (excerpt)

100 Florida Architects and Interior Designers presents the work of creative design professionals whose diverse backgrounds and design philosophies are shaping the built environment of the southernmost state in the continental US. The book showcases a vibrant cross-section of work that ranges from single-family homes and museums to luxury resorts and civic buildings. 100 Florida Architects and Interior Designers highlights well established designers alongside emerging professionals.
With over 450 pages, designer profiles, and full color illustrations, this volume is a striking compendium and a fascinating visual tour through Florida's current design landscape.

ABOUT THE AUTHORS
The book is edited by Damir Sinovcic, Editor in Chief of Design Book magazine and it features a foreword by Beth Dunlop, Editor in Chief of Home Miami magazine and architecture critic for The Miami Herald.

DOWNLOAD THE MEDIA KIT for more information and a complete index of featured designers!
BOOK LAUNCH

Click here to video photos and video from the book's Launch Party on hosted by Design Within Reach and Books & Books in Miami.
AWARDS & RECOGNITION
2010 "Writing about Architecture Award"
Given to Editor Damir Sinovcic by the American Institute of Architects, Miami Chapter.
FEATURED IN